The Lord's Prayer
A mother diligently taught her three – year – old – daughter the Lord's prayer for several evenings at bedtime.
Finally, the little girl decided to pray 🙌👏🙏🙇 all by herself.
She carefully recited each word until the end of the prayer she prayed, "Lead us not into temptation, but deliver us from e-mail. "
AMEN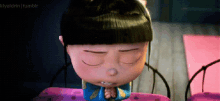 Joke taken from: It Happened In The Church by Patti S. Webster.